Boompole Pro
Ultra-lightweight Professional Boompole
The Boompole Pro is a precision-balanced professional boompole for location recording. Made from carbon fibre, the Boompole Pro is strong and ultra lightweight. It weighs just 535 grams and has a reach of 3 metres. It features an ergonomic grip and intuitive lock/release system that makes it easy to extend and retract.
Also The Rode Boompole Pro 3m is a superior boom pole crafted from carbon fibre to give maximum support whilst remaining lightweight in the hands. The 5-section Boompole Pro 3m has been designed to be used with shotgun microphones and the Blimp windshield series. The twist-lock technology securely holds the desired length anywhere between 810mm and 3m.
Key Features
Lightweight Carbon Fiber Design
Suitable for Shotgun Microphones
Extends from 2.7 to 9.8′
Five Sections
Intuitive Twist-Lock Mechanic
The Boompole Pro from Rode is a compact carbon fiber boompole that extends from 2.7′ in length to a full 9.8′, and it is designed for use with professional shotgun microphones. The five carbon fiber sections make it lightweight while maintaining strength, and they are easily extendable with one hand using the intuitive twist-lock mechanism.
Specifications
Mechanical Specifications
Dimensions (mm)
810 (H) x 40 (W) x 40 (D)
Box Contains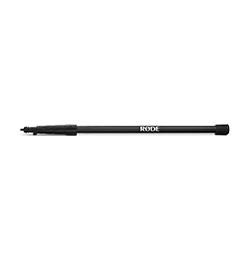 more information about this product —> Click here